28th Oct 2020
Seasonal Ranger October Update
October has been a fast-paced month here at Nevis Landscape Partnership where the Rangers have taken on new tasks weekly. Though there has not been a slowdown of tourists visiting the area, the Rangers have managed to complete more on top of their normal weekly patrols along Glen Nevis and up Ben Nevis. Throughout the 22 patrols the Rangers have accumulated 54 bags of litter, 17 firepits have been dug over and over 700 visitors have been educated and encouraged to follow SOAC regulations and to leave no trace upon their departure. This has shown a similar amount of litter being removed through less patrols than last month as well as a 58% decrease in firepit removal than last month, showing that the hard work the Rangers have been putting in is showing results!
At the start of the month all four Rangers took on the challenge of helping students from Glencoe Primary School complete their John Muir Awards. Over the two days in which the Rangers were there to assist they completed many activities such as den building, nature art, rhododendron removal, team games, poster making as well as the much-anticipated fire bowl and marshmallows. All fourteen students completed the tasks to a very high standard, and everyone involved had a great experience. This was the first time the Rangers had worked with local schools and through the success of the lessons they are planning for potential future involvement with several other schools in the surrounding area.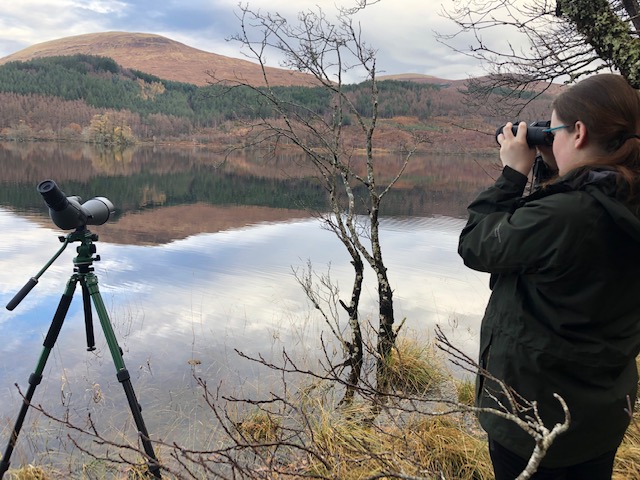 Camera trapping, a new activity for a few of the Rangers, was made available thanks to the John Muir Trust working alongside Nathan Berrie (Nevis Conservation Officer). In areas such as Coire Giubhsachan, Meall Cumhann and Steall Falls the Rangers were able to help place camera traps in and around the area, they will be left for approximately three weeks and then removed to be reviewed to see if any exciting species can be found.​
There have been many Friends of Nevis work parties similarly to last month. There has been two very successful work party days achieved; a path maintenance day where three volunteers and Rory (Volunteer Co-Ordinator NLP) joined two Rangers along the Visitor Centre to Achintee and up Heart Attack Hill (Route from Youth Hostel to Ben Nevis Path) to clear cross drains to allow water to reroute off the path, and a day of clearing up the Curling Ponds at the entrance to the Glen, volunteers and Rangers were joined with a few members of the Lochaber Curling Club to help do this! The Rangers also joined the John Muir Trust's work party to help clean up Ben Nevis on Sunday 12th October where fourteen bags of litter were removed off the Ben from the Summit down
Conservation work has been a big part of this month's workdays with a variety of activities been completed. These included drystone walling along the Riverside Path in response to the latest flooding that happened at the end of last month. Drain clearing from Lower Falls to Paddy's Bridge, to help maintain the path even during heavy rainfall. Tree Exclosure checks and Bracken Bashing to help encourage the growth of Scot's Pine within the Exclosures, as well as surveying the small wooden bridges from Lower Falls to Paddy's and conducting work on these to fix the wear and tear from the past few years and fixing a breach in deer fencing in one of our Future Forest Exclosures.
​
Finally, some of the extra activities the Rangers have been involved in include checking Owl Boxes, WeBs, Moth surveys, testing the new e-bikes purchased from Off Beat Bikes for use during patrols to encourage a more environmentally friendly way of transport and to help with social distancing measures. As well as collecting over 2,000 trees from Glencoe and transporting them to Fort William for a future planting project with West Highland College.
If you would like to be involved and help our Rangers in keeping the community cleaner through litter picks, Nevis Landscape Partnership (NLP) are one of the Community Litter Hubs within the Highlands provided by Keep Scotland Beautiful. This allows anyone to hire out litter picking kit such as: Hi-vis vests, gloves, litter picks and bag hoops from NLP to help tackle local litter issues. If you are interested or need more information please contact: info@nevispartnership.co.uk or call 01397 701088.