Ben Nevis Facts
Ben Nevis is 1345m (4,413 ft), making it the highest mountain in Britain.
Ben Nevis sits with in the Ben Nevis and Glen Coe National Scenic area, with Ben Nevis and large parts of Glen Nevis being also a Site of Special Scientific Interest.
The summit of Ben Neivs is owned by The John Muir Trust, with the North Face and lower slopes owned by Jahama Highland Estates.
The summit is normally 10°C cooler than at its base.
The first recorded ascent of Ben Nevis was made on 17 August 1771 by James Robertson, an Edinburgh botanist, who was in the region to collect botanical specimens.
The summit observatory was built in the summer of 1883, and would remain in operation for 21 years.
The Ben Nevis Race has been run since 1951, with the fastest runners completing it in around 1½ hours!
Planning your walk up Ben Nevis
The total return distance on the mountain path is

16km (10 miles)

which normally takes

6-8 hours

to complete, but can take longer.

Many accidents occur coming down the mountain as the

descent can be as arduous and tiring as the ascent

.

Always notify someone of your intended route and expected return time.
The weather can be very changeable and the summit temperature can be

significantly (10°C or more) colder

than at the base of the mountain. Check the local mountain weather forecast.

Being properly dressed and equipped will greatly improve your enjoyment of a day on the hill. Layering is the ideal way to regulate your temperature throughout the day.

Ensure you take sufficient food and water with you.

Consider booking a guided trip. Our local mountain guides will ensure a safe, informative and truly memorable

experience.

Read our Minimise your Impact page to help you leave no trace on your visit.
NEVIS AT NIGHT
The Festival of the Elements
25th September 2021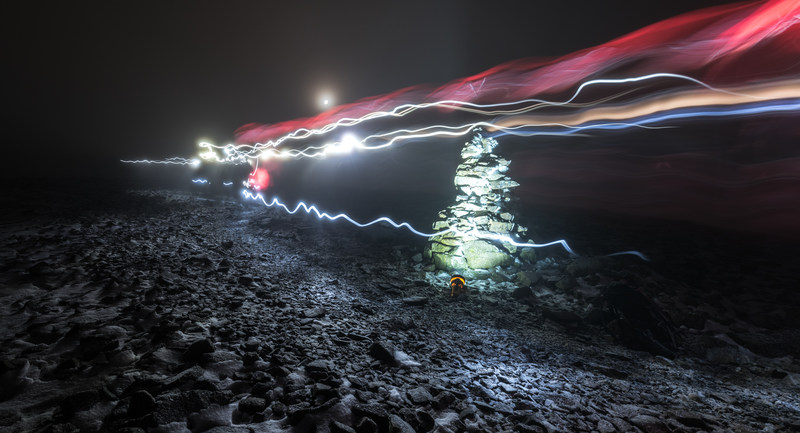 Nevis at Night is an experience of Glen Nevis and Ben Nevis for everyone, and a charity event like no other. Reach for the stars and immerse yourself in the multi-sensory experience during Light up Ben Nevis - our night ascent of the UK's tallest mountain. And it's all in support of The Nevis Fund to carry out essential environmental work in the Nevis area.
Find our more here
Ben Nevis History
Ben Nevis has quite a history and you can find out more about it here.
Ben Nevis History